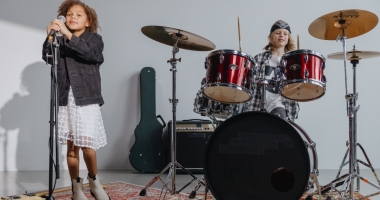 Drums Beginner - Top 10 easy songs to play on the drums

Are you a beginner at drums and wish you had a list of easier songs to pick from? Well, these are the top 10 easiest songs based on Trinity College London Rock & Pop Syllabus.
Billie Jean by Michael Jackson
Dancehall by Tribes
Fever by The Black Keys
Float On by Modest Mouse
Mustang Sally by Wilson Pickett
Rescue Me by Fontella Bass
Seven Nation Army by The White Stripes
The Weight by The Band
Uptown Funk by Mark Ronson, Feat Bruno Mars
Another One Bites The Dust by Queen

Songs that are easy to play do not make them inferior. Remember that practice makes perfect, and no song is an easy song at the start but with consistency and determination, you'll make progress. But then you'll ask, "how does one become a better drummer fast? How can I progress quicker as a drums beginner?

Develop muscle memory. Never take the basics for granted. Just with any other skill, it is important to learn the fundamentals of drums before moving on to other techniques. Did we also mention that timing is crucial? As a drummer, you're the timekeeper of the band and therefore, learning to keep time would not only benefit you but also the people that you play with.

Also, don't be pressured to find your own style. You don't necessarily have to find your style when you're just starting out to learn how to play the drums. Developing your personal style will take time. Learn the basics as a drums beginner and eventually it will be easier when you advance your skills. You don't want to cultivate bad habits and still have them even as an advanced drummer.

Groove Music School's drum teachers / drums instructors will teach you what you need to know to be the drummer you've always wanted to be. With many years of teaching and performing experience, they can equip you with what you need to know that's applicable and relevant to the real world today.

Are you a drums beginner with little to no experience? Then come try your hands at drums for only $29nett (30min trial) here.